Here you get details about a workout. Besides the distance and the individual sets, you can also see how long the workout will probably take. Estimated Time shows the total time you will spend in the pool, including breaks between sets. The estimated active time only takes into account, how long you are activly swimming (without breaks). For the calculation we use your average times from previous swims. So the more often you have swum, the more accurate the estimate.
The icons below the workout name indicate which additional gear you should use for this workout (if there is any), so you can pack your bag accordingly.
The estimated calories burned by this workout among other things are based on your weight. You can enter it the settings section.
The "pool" box shows for which pool length this workout is configured. It is based on the pool size you have set up in the settings. If you change your pool size there, all workouts will automatically be adjusted.
Workouts are usually divided into individual groups like warmup, drills or cooldown. You can recognize the groups by the turquoise headers, which also give information about their total distance and estimated length and how often you should repeat them.
The white bars show the individual sets. Again, in addition to the distance and number of repetitions, you get an estimate of how long a single repetition of that set is estimated to take. If you should use gear for a set, this is indicated by an icon.
Adjust Distance and Gear #
You have the option to simply adjust the distance (or time, if you it is an open water workout) to better fit your needs. Just tap the "+" or "-" buttons and it will be adjusted automatically.
Some premade workouts have some recommended gear. But don´t worry if you don´t have it or don´t want to use it: simply deactivates the gear with a tap on the respective buttons.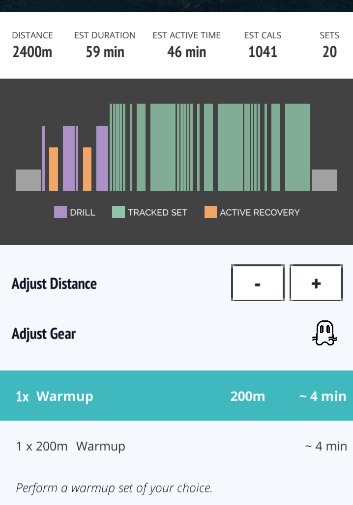 If you want to change workout in more detail, you of course always have the open to copy and edit it (see "other options" below).
Preview Single Workout Set #
If you tap on a single set, you will get a specific preview for it. You will get information about the gear to use and your track history as well as instructions, if any were given.
Other Options #
With the copy workout option in the top menu you can create a duplicate and edit it afterwards. You will find it in your custom workouts (more here).
If this a workout you have created yourself, you see options to edit or delete it.
The "send to watch option" at the bottom of the screen does just that: we send you the workout to your smartwatch (more on guided workouts here).