When using a Garmin device, an automatic lap counter keeps track of the lengths you are swimming and shows them on the display. This feature is working on Guided Workouts as well as in Free Swim Mode.
While swimming a set, the display now shows the current length: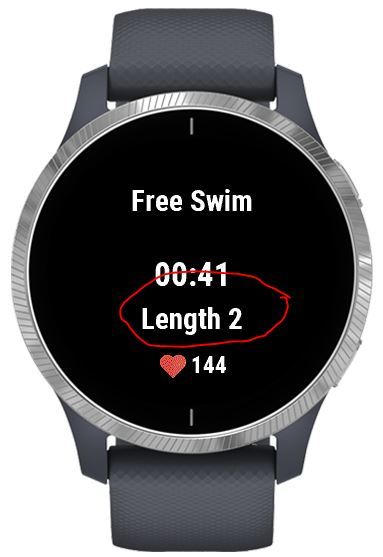 For this feature, we use the embedded lap detection of Garmin devices. To get an accurate count, you should keep a few things in mind (according to Garmin):
When swimming in Free Swim Mode, set the correct pool size prior to starting the set. When using Guided Workouts, make sure that the pool size has been setup correctly on your mobile app (via the "settings" section).
Swim continuously throughout the length, using one stroke type at a consistent pace and stroke cadence.
Try to use a flip turn with a strong push-off from the wall and a long streamlining (glide) phase.
This means that the lap counting precision of Garmin watches is not very high when doing drills. That's why we disabled the lap counter on drill sets. But all four competitive stroke types (freestyle, breaststroke, backstroke, and butterfly stroke) should be working.
Known Issues
It is a known issue that the Garmin lap detection is sometimes triggered too early or to late, especially when starting the set. But our experience is that it is balacing out these inaccuracy quite well during the swim.